4th Quarter 2012
We finished the year with record fertilizer production and sales volumes, thanks to the launch of our new urea capacity at PhosAgro-Cherepovets and sustained demand for complex NPK fertilizers.
Total fertilizer sales for 2012 rose 7.8% to an all-time high of 5.3 million tonnes;
NPK sales increased y-o-y by 39.2% during the same period;
Revenue for Q4 2012: RUB 26,066 mln, down 2.9% y-o-y from RUB 26,851 mln;
EBITDA for the period: RUB 7,501 mln, down 16.8% y-o-y from RUB 9,020 mln;
Profit for the period: RUB 5,390 mln, down 16.9% y-o-y from RUB 6,483 mln.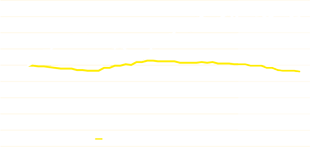 The phosphate fertilizer market in Q4 2012
Annual phosphate consumption in developing economies grew by 3.0%-4.7% y-o-y vs. 2011/2012, while Brazil was up 8.8% y-o-y and Ukraine's phosphate consumption increased 15.9% y-o-y.
India resumed buying in the end of the second quarter, but it was reporting adequate stocks of phosphate-based fertilizers for the upcoming 2013 season. At the same time, stocks of phosphate-based fertilizers remained at very low levels in all other geographies during the fourth quarter.
Key Corporate Events
October
PhosAgro's ownership of Apatit increases to 77.57% following completion of the privatisation of the Russian Federation's stake in the subsidiary. PhosAgro acquires 24% of the shares in Nordic Rus Holding, which is the owner of 7.42% of the authorised capital of Apatit. PhosAgro officially launches a new 500 kt p.a. urea production facility and a 32 MW gas turbine electricity generation plant at PhosAgro-Cherepovets, increasing the company's self-sufficiency in electricity and enhancing production flexibility.
November
PhosAgro launches mandatory tender offer for the acquisition of ordinary and preferred shares in Apatit. PhosAgro shares are upgraded from the MICEX Stock Exchange's quotation list "V" to quotation list "B". Quotation list "B" has certain liquidity and market capitalisation requirements compared to quotation list "V". Inclusion of its shares in quotation list "B" give PhosAgro access to a broader base of investors, including funds from the Russian Federation Deposit Insurance Agency. PhoAgro's Board of Directors recommends a 9M 2012 dividend of RUB 25 per share(RUB 8.33 per GDR).
December
PhosAgro wins the "Best Progress in Developing Corporate Governance" award at the Investor Protection Association's annual Russian Leaders in Corporate Governance competition. PhosAgro increased its stake in Metachem to 74.76% following an increase in Metachem's authorised capital by way of a contribution from PhosAgro. PhosAgro's Board of Directors recommends that shareholders approve creation of a Management Board as the governing executive body within the company.
Europe and USA
Europe and the United States are premium markets for phosphate-based fertilizers, and the US is the third largest consumer in the world after India and China. Supply chain restocking in preparation for spring planting is the driver of internal demand from the US during the fourth and first quarters. This balances out the global phosphate-based fertilizer market in a period when demand from other key regions is low. Phosphate-based fertilizer deliveries in both Europe and the US usually peak in February-March, while our deliveries of phosphate fertilizers to Europe normally peak in the fourth quarter of the year due to logistics considerations.

Corn, wheat and other cereals are the major consumers of phosphate-based fertilizers in Europe...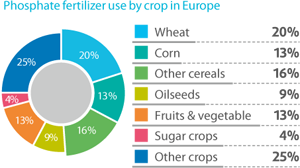 Europe is also one of the largest consumers of NPK fertilizers, which means there is a large, developed market for PhosAgro's many grades of complex fertilizers in relatively close proximity to our own production sites. PhosAgro's sales to Europe during peak season bring higher netback prices than to any other region.
The US corn crop is one of the key sources of phosphate fertilizer demand — changes in US corn planting volumes can affect global phosphate-based fertilizer prices...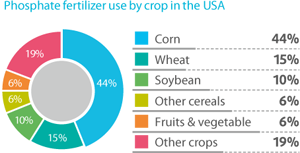 Despite significant domestic DAP/MAP production capacities, the United States imported 370 kt of MAP ahead of the 2012 spring planting season, including 118 kt of MAP delivered by PhosAgro.
top