1st Quarter 2012
Our strong performance in Q1 2012 was possible despite weakening DAP prices thanks to our production flexibility, which allowed us to quickly switch from DAP/MAP to complex NPK/NPS fertilizers in response to changes in market demand:
Phosphate-based fertilizer sales rose 9.4% in the period;
Revenue for Q1 2012: RUB 25,918 mln, up 5.8% y-o-y from RUB 24,486 mln;
EBITDA for the period: RUB 9,099 mln, down 0.1% y-o-y from RUB 9,109 mln;
Profit for the period: RUB 8,047 mln, up 29.1% y-o-y from RUB 6,235 mln.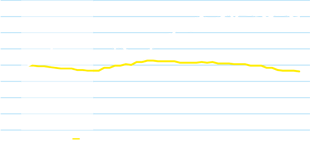 The phosphate fertilizer market in Q1 2012
The Indian market, which is the largest importer of phosphate-based fertilizers in the world, was challenging in Q1 2012. India reduced its DAP subsidy by almost 30% to Rs 14,350/tonne, and as a result almost no DAP was supplied to India during the first three months of 2012.
The situation began to improve by the end of the quarter, and towards the end of March DAP prices recovered by more than 17% from their lowest level of USD 495/tonne (FOB Tampa). Prices were supported in part by continued strong demand for phosphate-based fertilizers from Russia, Europe, the US and Brazil during the period. The first quarter is one of the peak seasons for fertilizer demand in Russia.
Key Corporate Events
January
PhosAgro shares included in the MICEX MidCap index
February
UC Rusal and PhosAgro sign a long-term supply agreement for the supply of fluoric salts produced during the processing of PhosAgro's apatite concentrate. Under the agreement, PhosAgro will invest RUB 2.2 bln into increasing fluoric salts production capacity at PhosAgro- Cherepovets by 12 kt p.a. Shareholders of PhosAgro production subsidiaries Ammophos and Cherepovetsky Azot approve the merger of the two companies into the newly-created PhosAgro-Cherepovets. PhosAgro launches sales in containers, enhancing sales flexibility and opening up markets where infrastructure constraints limit bulk cargo handling capacity.
March
PhosAgro completes a 1:10 share split, each PhosAgro share now represents 3 GDRs instead of 30 GDRs pre-split.
Russia
Farmers preparing for the spring wheat planting season are the key driver of domestic demand for phosphate-based fertilizers in the first three months of each year. During the first quarter, farmers are building up stocks and beginning to apply fertilizers on their wheat fields. This is one of the Russian fertilizer market's two annual peaks, with the second coming mid-late in the third quarter ahead of winter wheat planting. Wheat is a major phosphate-consuming crop in Russia, making it a key source of domestic demand for our products, and Russia has become a major global exporter of wheat.

Wheat is a key source of phosphate demand in Russia…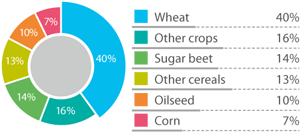 …and PhosAgro is the leading supplier of phosphate-based fertilizers in Russia
PhosAgro is the leader in the fast-growing domestic market for phosphate-based fertilizers, and we are able to sell directly to customers in Russia's leading agricultural producing regions.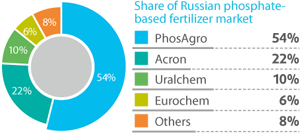 …and Russia is a major global exporter of wheat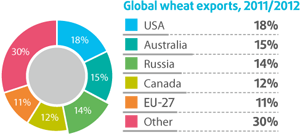 The domestic fertilizer market's fiveyear CAGR is 7%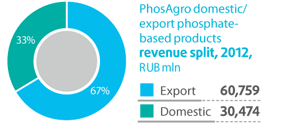 Russia is an especially important market for us: in 2012 domestic sales accounted for more than 30% of our revenue.
top