Our flexible production and sales helped us achieve record NPK volumes in 2012
PhosAgro's successful strategy of enhancing production and sales flexibility changed the geography and structure of our global sales in 2012 – we sold more fertilizers than ever before in our company's history, and NPK sales increased 39% vs. 2011.
Our fully flexible production lines can produce up to 1.8 mln tonnes of complex NPK fertilizers per year
We took the decision early in 2012 to focus on complex NPK fertilizers instead of DAP/MAP phosphate fertilizers in response to changing demand.
As a result, NPK production in 2012 increased to 1,644 kt, up 37% from 1,199 kt a year earlier.
After Russia, Asia is the primary region which we ship our NPK fertilizers. Many regions of Asia use monoculture farming, and the precise nutrient balance NPKs offer makes this type of fertilizer especially attractive to farmers. The exact nutrient ratio in each NPK granule make it easier to achieve even nutrient application than with blends. Unlike NPKs, blended fertilizers cannot be shipped more than 30-40 km as different types of granules will settle and become segregated.
Our increased shipments to Asia in 2012 were also driven by the introduction of sales in containers, which increased our flexibility and opened up the possibility of selling to new markets where bulk shipments are constrained by infrastructure.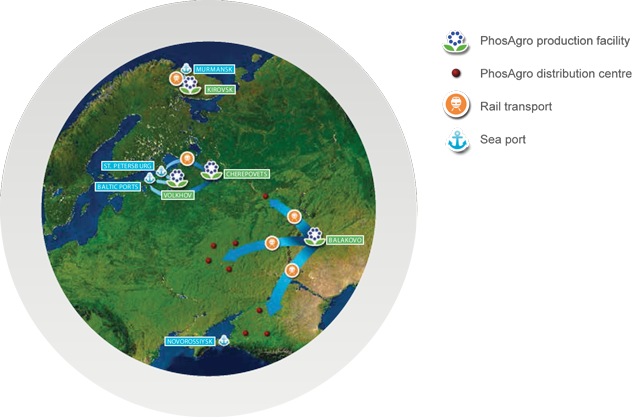 PhosAgro NPK Sales in 2011-2012
kt


top